An Innovative WaterPod Makes Ocean Water Drinkable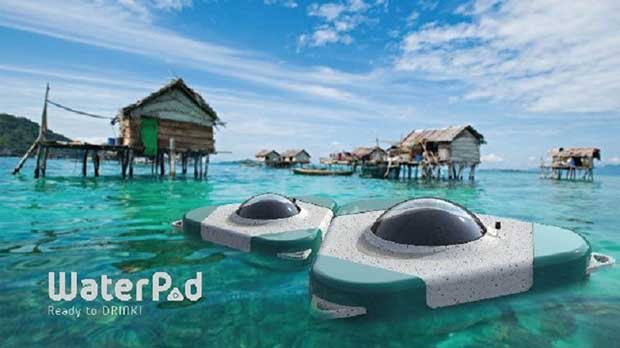 Three students from Asia Pacific University of Technology & Innovation, including Yap Chun Yoon, Loo Xin Yang, and Bennie Beh Hue May, won the top prize of $2,400 in Malaysia for their official admission to the International Design Competition.
Note that the students involved in the product design outwitted 120 other participants using a sustainable seawater desalination pod called WaterPod. Reports reveal that 84 international finalists in this competition are now looking for a chance to win $40,000 as a top prize; however, an additional payment of $6,600 will be made in favor of the university associated with winning students.
As per the information available on the website of the James Dyson Awards, the professionals will now narrow down the names of competitions in the list, and the final 20 contestants will be announced on October 13, 2021. Those who are interested to know more about how this innovative WaterPod works are advised to go through the details below.
How WaterPod works?
There are so many amazing things to know about WaterPod. This product design is mainly based on a self-cleaning desalination system that is powered by solar energy. It facilitates the absorption of seawater through the wick. Moreover, it comes with a specially designed semi-spherical cover that is exposed to sunlight and helps to collect vapors that can later condense to form a potable liquid.
After this, the desalinated water moves into the large storage chamber that can hold almost 8 – 10.5 gallons of water. This water can then be collected by end-users through a pump. The students associated with this project also described that this WaterPod could work as the finest alternative to the large desalination plants. As it is designed to use the concept of basic science, even beginners can operate it with ease.
The students have also planned to create a floatation concept for the device after understanding the requirements of the target communities that live near the sea area. However, the concept may be expanded on a large scale in the future to serve a larger audience base.
Why this invention matters?
Sea nomads that have their living arrangements on islands and coasts of Southeast Asia can easily collect barter tap water or rainwater using this unit. This application is more useful for areas where people experience a lack of clean water.
The students revealed that they were first working on the demands of sea nomads so that their current problems could be addressed through the support of technology. But now, they are able to understand the larger perspective of this technology. They have now brainstormed new possibilities and potential ideas to present more sustainable solutions to the end-users.
The inventors also believed that having easy access to clean water in the close vicinity would assist these communities in becoming self-sustained with enhanced agricultural outcomes. This innovation is likely to make a significant change in their lifestyle while providing new growth opportunities in the long run.
Citation
https://www.yahoo.com/news/malaysian-students-invent-device-makes-212509311.html
An Innovative WaterPod Makes Ocean Water Drinkable News
An Innovative WaterPod Makes Ocean Water Drinkable Resources