An Update on #5 Plastic Recycling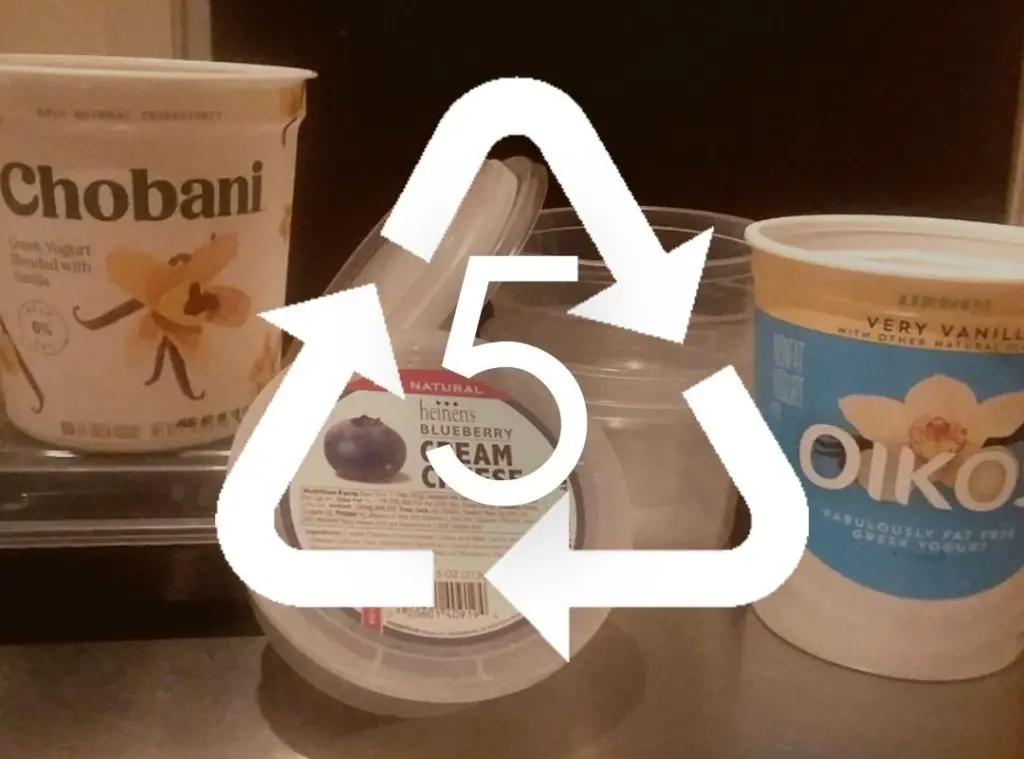 Some of the most frequent questions I get asked on this site are about plastics recycling. And one type of plastic that is particularly troublesome for most people is polypropylene, or #5 plastic. Many food products come packaged in #5 plastic tubs. Some of the most common #5 plastic items are soup takeout containers, and dairy tubs like butter tubs, yogurt tubs, cream cheese tubs and so on. Let's discuss the current state of #5 plastic recycling in the United States.
Plastic Recycling Doesn't Work Very Well
For many of us, a greater variety of plastic products used to be accepted in our recycling bins when we sent our recycling to China, and then in 2017 when China stopped taking our recyclables, many recycling programs in the U.S. started limiting acceptable plastics to bottles and jugs only, or simply not taking any plastic at all. Visit this article for a more in-depth discussion of why plastics recycling is in the state it is in.
Then there used to be a few programs that would accept #5 plastic via drop-off or mail-in programs, the main one being a program called "Gimme 5" which was run by a company named Preserve. They accepted #5 plastics in drop-off bins at Whole Foods stores and you could also mail #5 plastic to them. But that program has been on hold since the start of the Covid-19 pandemic and as of this writing, it has no restart date.
The following is a statement posted recently by Preserve regarding their Gimme 5 program:
Thank you for your interest in recycling with Gimme 5. Our mail in program for #5 plastics recycling continues to be paused. Although we had hoped to hit a September 1, 2021 reopen date, we unfortunately won't be able to do that. While we continue to work on reopening, we do not yet have a timeframe that we can offer.

We paused the Gimme 5 program November 2020 due to logistical challenges that arose due to the pandemic and in order to re-start, we need to re-build our logistics system around receiving and processing and do it in a way that is both environmentally and financially efficient.
That was pretty much the last free (or at least free aside from mailing costs) option available to anyone who doesn't have local option for recycling #5 plastic, and now it is gone too. I will be constantly looking for new avenues for recycling this type of plastic, but unfortunately, right now if your community doesn't take #5 plastic, there just aren't any good options.
Ways to Recycle #5 Plastic for the Extra Motivated
Purchase a Terracycle box. If you are REALLY motivated to recycle #5 plastic polypropylene tubs, you could purchase a Dairy Tubs Terracyle box. After you fill the box, you will send it back to Terracycle and they will recycle the plastic into new products. This is an expensive option for home use (a small box starts at $76), but it could make sense for a retail establishment to bring people in the door, or perhaps for a school.
Find someone in another local community that accepts #5 plastic to take your tubs. I throw this option in because if your county is like mine, we have multiple different waste haulers and each city contracts on their own. The town right next to mine recently started accepting #5 again, but mine still does not. So I gather up my #5 plastics and give them to a friend in that town who recycles it for us. You might also be able to drop it at that city's recycling transfer station if they allow drop-off items from non-residents.
Find a member of Precious Plastic near you. There is a growing worldwide community of DIY plastic recyclers that are being organized under the name "Precious Plastic." You could check the Precious Plastic Community Map and see if there are any groups near you that would accept #5 plastic at a drop-off site.
Unfortunately, this is about it folks. If you know of any organization that takes #5 plastic whether by drop-off or by mail-in, please let me know, because I know people are looking for an outlet for recycling these products.
An Update on #5 Plastic Recycling News
An Update on #5 Plastic Recycling Resources