Best eco-friendly sunscreens – The Waste Management & Recycling Blog
It's widely known that protecting our skin from harmful UV rays is important. Fortunately, high-factor SPFs and nourishing sunscreens help defend our bodies against the sun, allowing us to enjoy the warm weather safely.
Unfortunately, many of these sunscreens are bad for the environment. Harsh chemicals damage marine life, while plastic bottles, tubes, and caps pollute our planet.
Luckily, many skincare brands now produce eco-friendly sunscreens that are great for our skin and kind to the earth. Learn why you should switch to an environmentally friendly sunscreen and discover our pick of the best products.
Can sunscreen cause pollution?
Researchers have provided evidence that chemical sunscreen pollution significantly threatens coral reefs. These delicate areas support over 25% of all marine life while covering just 1% of the seabed, so their preservation is of the utmost importance.
Coral reefs are not only home to various species but also help stabilise the sea floor, prevent coastal erosion, filter and clean seawater, and regulate the ocean's carbon dioxide levels. They are a crucial part of our planet's biodiversity and go a long way toward mitigating climate change.
Unfortunately, most people prefer chemical-based sunscreens as they are quickly absorbed into the skin and don't leave a white residue. However, these chemicals are also easily absorbed by marine life and coral reefs, disrupting their ability to reproduce and grow.
Around 14,000 tons of toxic sunscreen enter our oceans yearly, coming not just directly from our bodies but from sewage runoff too. The primary sunscreen pollutant is oxybenzone (BP-3), a chemical compound used in many everyday sunscreen products.
Studies show that BP-3 accelerates the rate of coral bleaching, as marine life exposed to lethal amounts of the chemical compound bleaches at lower temperatures.
Another chemical partly responsible for coral bleaching is the UV filter benzophenone (BP-2). Unfortunately, this chemical appears in sunscreen and other beauty and cosmetic products.
Plastic sunscreen containers and caps also contribute to the planet's growing plastic waste problem. Due to thick plastic, many sunscreen bottles and tubes aren't easily recyclable, meaning they are often sent to landfill after use. Microplastics in the sunscreen formula could even be getting under our skin via application, with these tiny plastics also polluting our water supplies and oceans.
Microplastics are tiny particles of plastic that are known for polluting our oceans and water supplies. They can enter our bodies in many different ways, including through the use of beauty products. The skin can absorb them through lotions and powders, negatively impacting our long-term health.
Sunscreen alternatives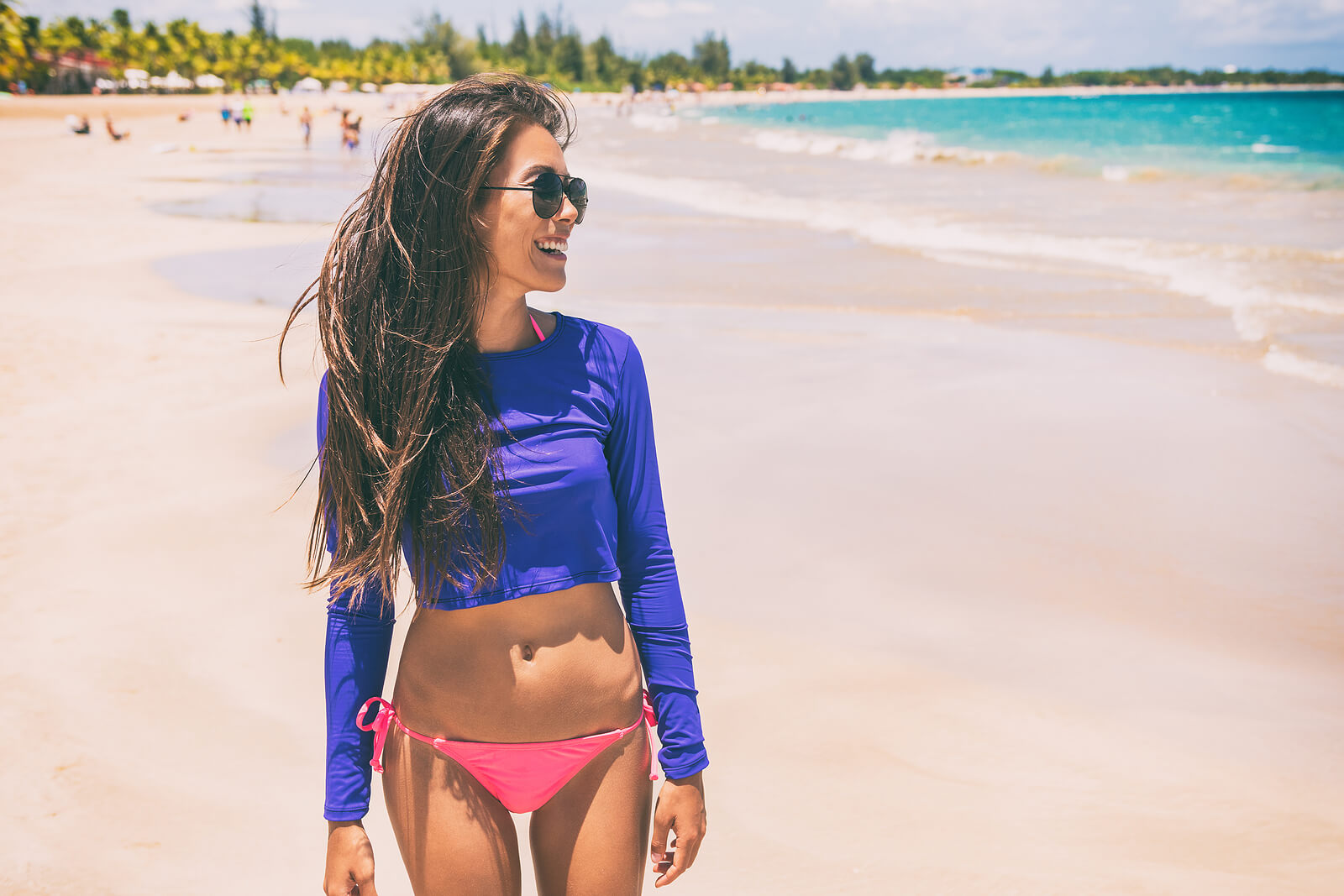 One eco sunscreen alternative is not to use harmful lotions, instead opting for sun shirts, hats, and coverings and avoiding the sun during peak hours.
Some studies estimate wearing a sun shirt instead of sun creaming your torso and arms can reduce sunscreen pollution by up to 50% in the area. Less sunscreen gets onto the sand or into the water, protecting coral reefs from damaging chemicals.
Of course, going without sunscreen isn't a viable option for most. If you need to cream up, ensure your sunscreen is eco-friendly and mineral based.
What is mineral sunscreen?
Some UVA and UVB rays and chemicals enter our bodies through chemical sunscreen, leaving our skin to absorb and filter out the nastiness on its own. Mineral-based sunscreen, however, reflects rays from the top level of the skin's surface.
Most mineral sunscreens contain zinc oxide and titanium oxide, which sit on top of our skin. Zinc oxide is the only mineral that protects against UVA and UVB rays, creating a physical layer on our body's surface. Mineral, non-toxic sunscreen doesn't degrade into harmful chemicals or enter our bloodstreams and is safer to use around marine and reef life.
Best environmentally friendly sunscreen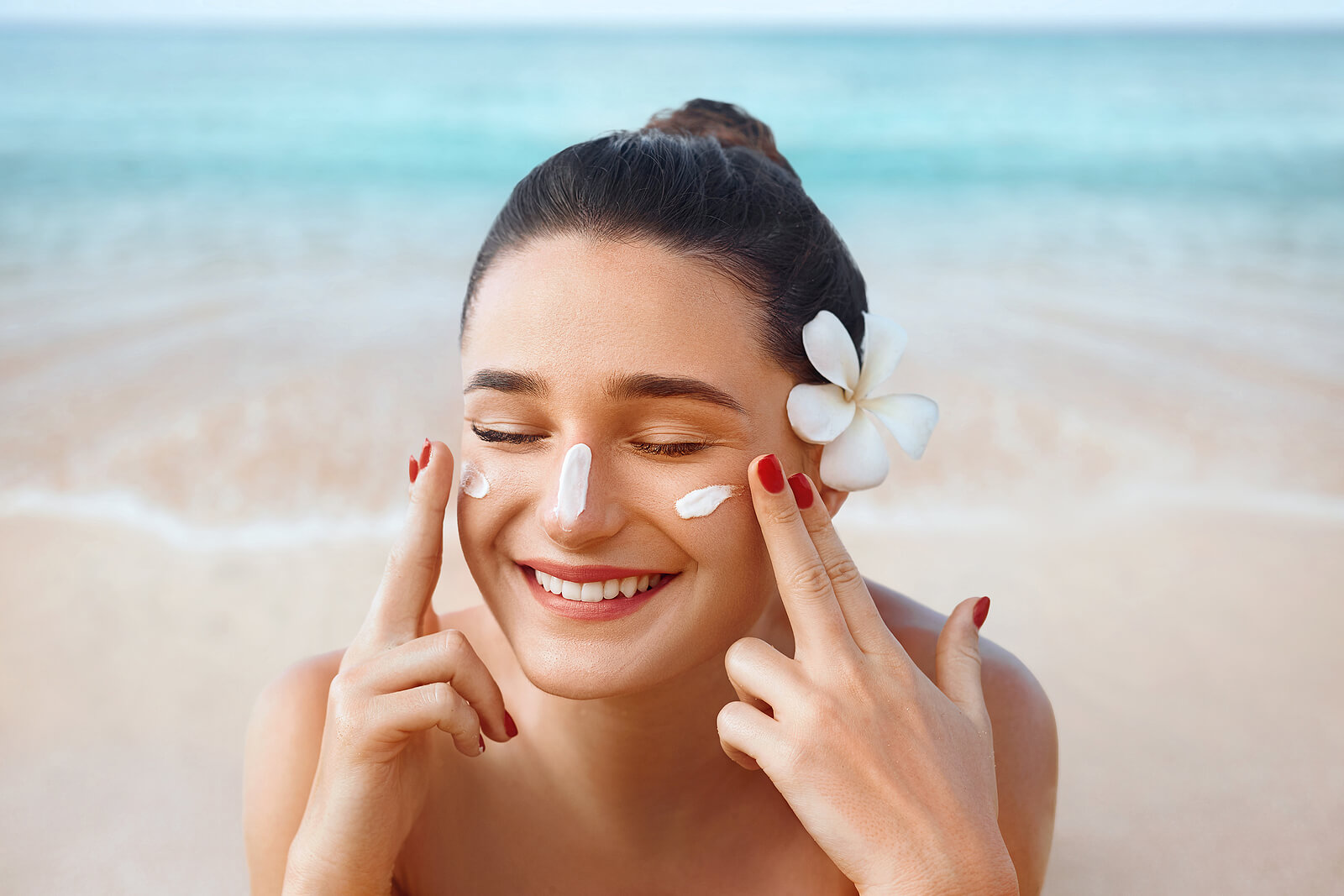 Finding an environmentally safe sunscreen isn't as hard as it used to be. Many household sunscreen brands now boast recycled bottles, coral-safe sunscreen, and sunscreen free of toxic chemicals.
Green People scent-free sun lotion
Green People is well-known for its eco-conscious range of face, hair, and body care products, and the brand also stocks an award-winning sunscreen range.
The scent-free sun lotion is perfect for those with sensitive skin, with soothing aloe vera and green tea to calm and protect the body. The formula contains titanium dioxide and 84.8% certified organic ingredients, making it safer for our oceans.
The product comes in a recyclable sugar cane tube, making it an ideal plastic-free sunscreen. Green People also donate 20p from every sale to the Marine Conservation Society, an apt and worthy cause.
Ultrasun sports gel
Named the world's first utterly ocean-safe biodegradable sunscreen, Ultrasun sports gel receives big props from us. The product received the BASF EcoSun Pass, criteria that measure a formula beyond its generic ocean-safe sunscreen claims.
Ultrasun is one of the best non-toxic sunscreen brands, boasting a vegan and octocrylene-free formula. The transparent, lightweight liquid gel filters UVA and UVB rays and is excellent for those partaking in heavy exercise in the sun.
Hawaiian Tropic mineral skin nourishing milk
Drugstore favourite Hawaiian Tropic delighted shoppers recently with its new range of mineral and reef-friendly sunscreens. By omitting oxybenzone and octinoxate, the mineral sun milks are better for the planet and our skin, protecting from UVA and UVB without using chemical filters or parabens.
The product packaging is made from 25% recyclable materials, while the sunscreen formula is vegan-friendly and Peta-certified.
Zero waste sunscreen
As the waste-free movement grows, zero-waste sunscreen is slowly taking centre stage.
Using glass jars, compostable containers, and refillable bottles, zero-waste sunscreen brands aim to reduce the amount of plastic waste generated by sun cream. Many formulas are also reef-friendly and non-toxic, making them an all-around better alternative to traditional sunscreens.
Some zero-waste sunscreens also come in bars or balms, making them easier to transport and cleaner to apply. Other brands offer a discount on future purchases when returning your container for refilling, promoting a circular economy integral to addressing the climate crisis.
It's incredibly straightforward to switch from toxic formulas to environmentally friendly sunscreens. With various products addressing different skin concerns and personal needs, you're sure to find an eco-friendly sunscreen that's perfect for you.
Best eco-friendly sunscreens – The Waste Management & Recycling Blog News
Best eco-friendly sunscreens – The Waste Management & Recycling Blog Resources