Bosch Introduces New EV Charging Cable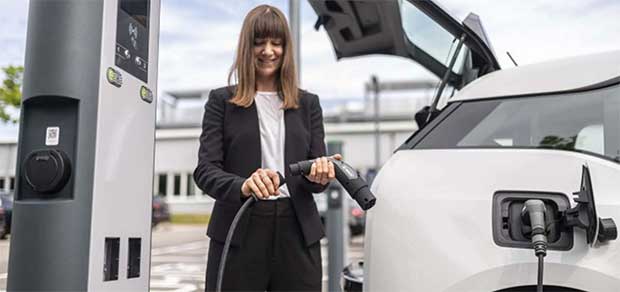 Bosch, engineering and technology company, has introduced a new charging cable for electric vehicles. The EV cable does not contain a traditional charging brick. The manufacturer has finally revealed information about this EV cord before the world premiere, which is planned to happen at IAA Mobility in Munich within few days.
Robert Bosch GmbH, which is commonly known as Bosch, is a noteworthy German tech company and was originally established in the year 1886. Since then, Bosch has grown in the engineering and manufacturing sector while bringing some of the most advanced and classic automotive parts, electric bikes, and appliances into the market.
In the past few years, Bosch has developed several newer technologies such as cloud services, software, and the Internet of Things based units.
This German company earlier shared mixed opinions on electric vehicles. However, with their recent announcements, it can be observed that the company is likely to wholeheartedly support future EV drivers with their advanced charging cord.
Bosch sent out a press release recently to give us a useful glimpse on this flexible charging cable that precisely coincides with IAA Mobility in Munich. Bosch announced this flexible smart charging cable to be the first integrated universal charging technology that can work without an in-cable charging box. It is widely known as a brick.
As per Bosch, this new charging cable weighs almost 40-percent less as compared to the brick-equipped cables with a weight of around 6.6 lbs. This makes it much easier for the consumer to handle.
It is also important to mention that the new cable will be available with adapters that permit both Level 1 as well as Level 2 AC charging. Whether you are plugging this charger in at home or wish to use it in a public charger, the recently launched Bosch cable is easier to connect, and it can deliver a charging facility up to 22kW.
On one side, this universal use cable can be used for AC charging. Manufacturers have designed it with an advanced safety system. The control box of this charger is designed with the aim of monitoring temperature when the unit is charging a device.
The new cable from Bosch has adapters for type 2 as well as household Schuko plugs. In more specific terms, the type 2 plug connects directly to the vehicle with specially designed elements to control and monitor charging power. One dedicated part of the cable integrates a residual current device and temperature control system.
With this advanced design, the manufacturers are very confident that this new product will never face any overheating or overloading issues when connected to the household power socket for charging devices. The integrated safety features can deactivate the cable automatically whenever a critical situation is detected.
Furthermore, this multifunctional cable saves space while offering better possibilities for charging. You will find it a much reliable choice over existing equivalents in the market.
Citation
https://electrek.co/2021/09/08/bosch-unveils-unique-ev-cable-without-bulky-charging-brick/
Bosch Introduces New EV Charging Cable News
Bosch Introduces New EV Charging Cable Resources