Canoo Electric Pickup Truck, Oh Wow!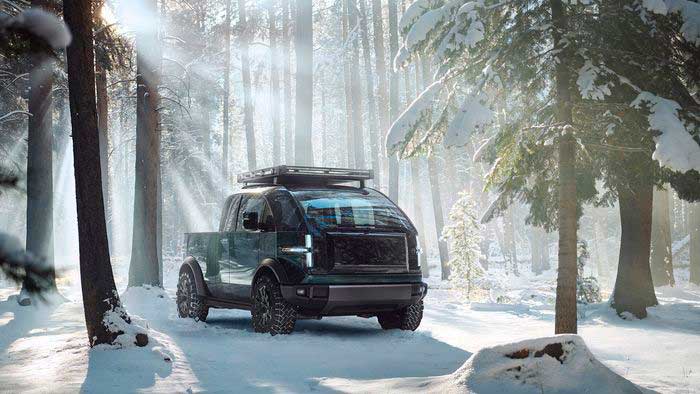 Normally, when we design a car the conventional designs come into our mind. But that is not the case with Canoo Electric Pickup truck! Take a look for yourself!
So, what do you think?
It's a revolution in design. It has a cross look between rounded city buses and star trek shuttlecraft.
Some automobile manufacturer has this concept that the customers will be preferring the conventional gasoline car designs and thus they don't change the conventional designs. But Canoo GOEV, a start-up based California thought differently and they brought this revolutionary design for their new launch. This thing looks completely different than the traditional gasoline-based cars.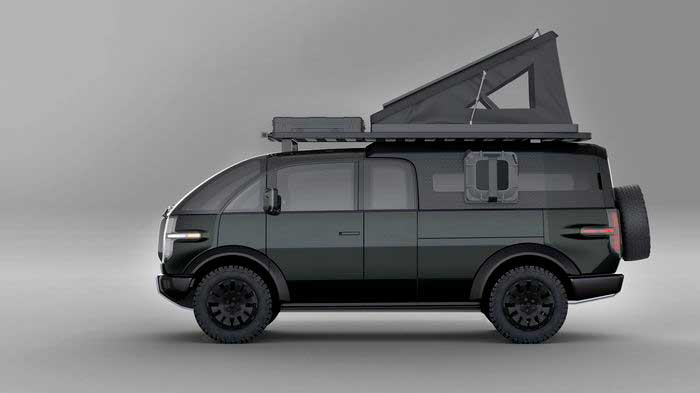 Features of Canoo EV Pickup Truck: The Canoo electric truck: A table folds off the front for a mobile workspace.
It is absurdly functional, compact, fitting almost the footprint of Tesla model 3.
Additionally, it is offering
A 6 feet bed expandable to 8 feet with storage divider
Integrated overhead and bed perimeter lightning
A table that folds off the front fascia
6 feet table that folds down from each side of the bed
Fold-down workable plus cargo storage
Exterior power plugs
Built-in steps to access the roof racks.
Several camper shells
Vehicle payload capacity 1800 lbs
Steer-by-wire and brake-by-wire technology
The beds have taillights, so the drivers can drive safely even if the beds are extended. The external power plugs allow the users to take the charge equipment off the parked truck.
The spartan looking cabin is basically designed for two but Canoo says that a 3-person design is also on the way.
The truck will be offered for a rear motor or dual motor configurations. They are promising a 600 horsepower and 200 miles of range in a truck which is basically more than 2 feet shorter than a Toyota Tacoma.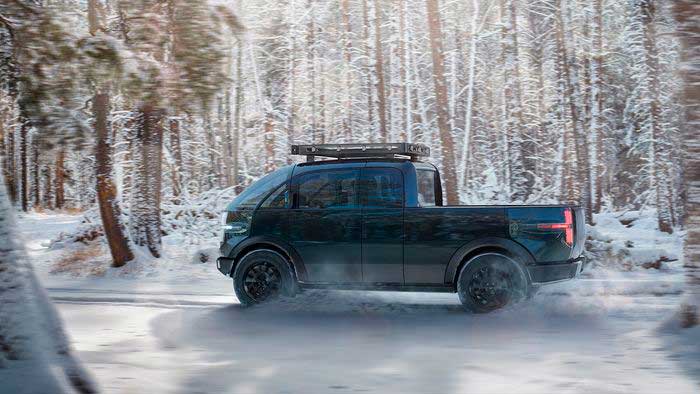 Availability:
The truck is available for pre-order. The deliveries will start from 2023.
Price:
The price is still unknown. But considering the first model of delivery van that shares the basic platform with this one, the price should not differ much. Its cost started at $33,000 and we expect a price tag like this only.
Canoo pick-up truck will be the most cab-forwarded and space efficient electronic vehicle in the market. It has a massive cargo capacity as compared to its size. Advanced lightning technology provides extra safety. The extended cab vehicle can accommodate two persons with a provision of adding two additional seats. It is also having extra protection for headlights and windscreen.
Canoo's electric pick-up truck is basically the electronic vehicle designed for everyone on the road, to help people to be more productive and enjoy a journey with money back in their pockets.
Citation
https://www.marketwatch.com/story/canoo-dig-it-startups-ev-looks-like-a-cross-between-a-city-bus-and-a-space-pod-11631737538?siteid=yhoof2&fbclid=IwAR0qFtyHwvXLoLK0nYYJwtH91Lf4KuJe6M3BVQbLtbi0A3JB1J49oGo2xu4
Canoo Electric Pickup Truck, Oh Wow! News
Canoo Electric Pickup Truck, Oh Wow! Resources