Eco-friendly Christmas cracker alternatives – The Waste Management & Recycling Blog
Wearing your paper hat and sharing a festive-themed joke is a classic pastime around many a Christmas dinner table. Despite concerns around their impact on the environment, here in the UK, we pull over 154 million Christmas crackers each year, proving that the snap of the season is here to stay.
Yet there are ways to ensure our Christmas crackers are more eco-friendly. Recyclable and plastic-free crackers are now easy to find in stores and online, while many people have even taken to making their own eco-friendly Christmas crackers.
Take a look at Forge Recycling's favourite eco alternatives to Christmas crackers for you to enjoy this merry season.
Shocking Christmas cracker facts
Like many of our modern-day Christmas traditions, the pulling of Christmas crackers dates back to the Victorian period. Developed in the 1850s by London confectioner Tom Smith, the original crackers contained sugared almonds and a simple love poem or motto.
In the years that followed, Smith's sons developed the ever-popular crackers to include the iconic paper hat and eventually also replaced the poetry with jokes or limericks.
Nowadays, we find all sorts of novelty toys and games inside our Christmas crackers. Unfortunately, many of these – as well the cracker casing itself – are bad for the environment.
It's estimated that around 40 million crackers are thrown away every Christmas. The cheap and flimsy plastic contents often played with for mere minutes, are unrecyclable and end up in landfill.
Crackers covered in glitter or lots of embellishments also can't be recycled at home, while the ribbons, which typically adorn the two ends of the crackers, also cannot be put in your recycling bin.
To top it all off, the plastic packaging we see on many Christmas crackers again often ends up in landfill, unable to be recycled. All these elements combined makes for an incredibly wasteful tradition.
Eco-friendly Christmas crackers
There are ways to still enjoy a sustainable Christmas 'bang' while also considering your environmental impact.
Many large retailers have pledged to reduce or even completely eradicate plastic toys inside their Christmas crackers, including built-to-last toys and recyclable packaging too.
Reusable Christmas crackers
One of the biggest criticisms of Christmas crackers is that they aren't reusable and, even if recyclable, aren't zero-waste.
These fabric-covered crackers by Kate Sproston Design are therefore a great and stylish alternative. They have a durable cardboard inner tube made from recycled materials and the choice of either ivory cotton or natural linen embossed with a Scandi-inspired Christmas image.
They arrive empty so you can easily fill them with your own eco-friendly treats that your family is sure to use and love.
Plastic-free Christmas crackers
Reduce the amount of Christmas cracker toys and packaging that end up in landfill this year, with these fun festive crackers from Nancy and Betty.
All Nancy and Betty crackers are handmade in England and are completely recyclable with plastic-free gifts. One tree is also planted for each box of crackers purchased.
Pick from colourful designs including Rudolph and Father Christmas motifs, or go for something classic such as gingham or Victorian-inspired print.
High-street stationary store Paperchase is also offering an FSC approved Christmas cracker, again with no plastic contents. Instead, you'll find a joke, hat, and a festive trivia card inside your eco-friendly Christmas cracker to share with your Christmas dinner table.
Luxury eco-friendly Christmas crackers
Going green doesn't mean you have to compromise on quality. Cox & Cox is famed for its luxury Christmas crackers, all handmade in the UK with some brilliant environmentally friendly attributes.
The paper is sustainably sourced and printed with vegetable-based inks. While the bows on the cracker aren't recyclable, the premium quality means they are great to reuse for present wrapping, or arts and crafts. All cracker contents are also plastic-free, meaning you'll be well on your way to a recyclable Christmas.
Plantable Christmas crackers
Give back to the environment in a more literal way this Christmas and replant your crackers.
These plastic-free Christmas crackers from Ecovibe contain a packet of seeds instead of a plastic toy, which you can plant in your garden. With a variety of flowers and herbs included, you'll have great fun swapping seeds with your loved ones.
The Christmas crackers are also biodegradable meaning they are completely zero waste and feature a traditional festive design.
Make your own eco Christmas crackers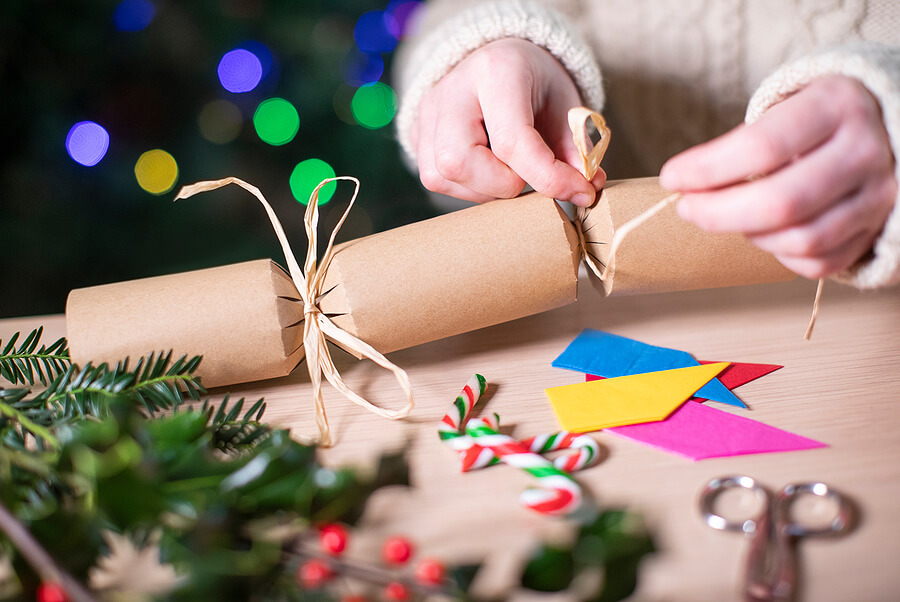 Get crafty this Christmas and create your very own eco-friendly Christmas crackers out of these household materials.
Homemade Christmas crackers are incredibly easy to make – you just need toilet rolls, decorative paper (you can use newspaper, comic books, even wrapping paper), thin card, and some string or ribbon – add some cracker snaps for a true cracker experience too.
Of course, Christmas crackers don't have to be actual crackers. How about replacing them with homemade festive biscuits, Christmas envelopes filled with small jokes or gifts, or even a matchbox with a special Christmas surprise inside. These all make fantastic place settings for your Christmas dinner table that are sure to catch your guests' attention.
Opted for an eco-friendly advent calendar this year? Those fill-your-own burlap sacks can be repurposed as stylish Christmas crackers. Write your own jokes or facts, pop in a sweet treat or plastic-free gift, and use them to decorate your festive table for your family and friends.
Eco-friendly Christmas cracker alternatives – The Waste Management & Recycling Blog News
Eco-friendly Christmas cracker alternatives – The Waste Management & Recycling Blog Resources