How to Recycle Pens and Markers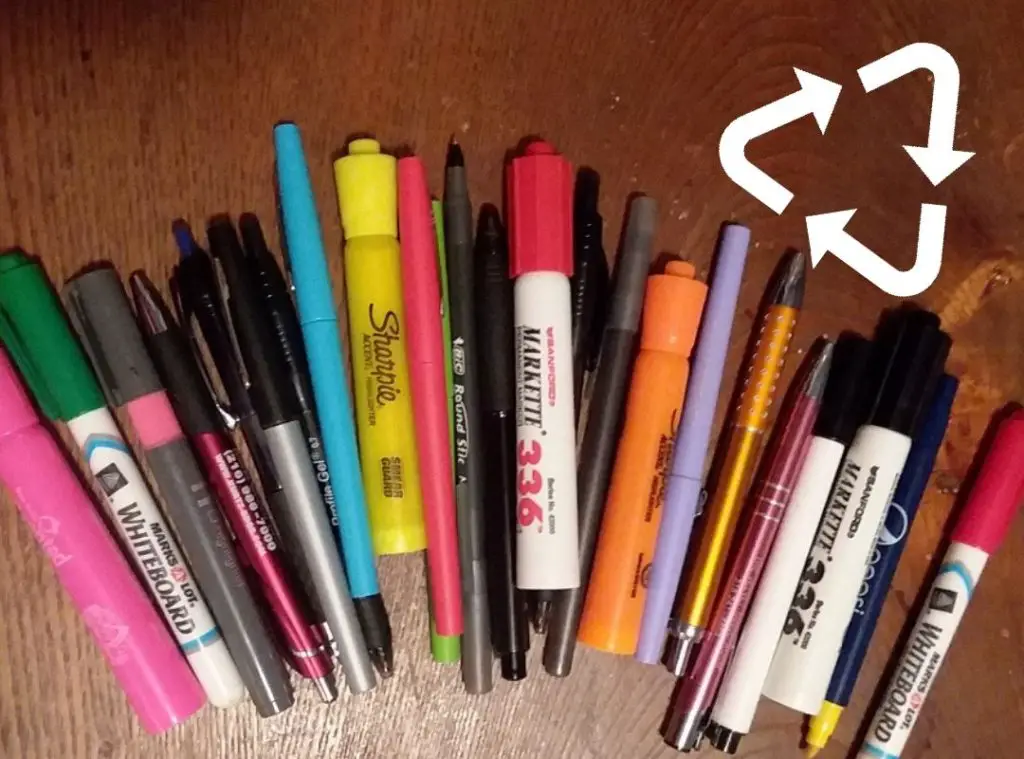 Pens, mechanical pencils and markers are tough items to recycle, because they are made up of multiple different types of plastic, metal, ink and other materials. In the United States, there are only a few options to recycle pens and markers. Here they are:
Find a pen recycling drop-off location.
Some businesses have signed up for the BIC Stationery Recycling Program and have a drop box for all brands (not just BIC) of pens, markers, paint sets, glue sticks and packaging. Unfortunately, Terracycle does not include these locations on its searchable map of public recycling drop boxes. So you have to try to find them on your own.
Start with your city or county solid waste department. My county has some Terracycle drop boxes in their vestibule for various hard-to-recycle items, and a pen/marker recycling box is one of them. You can also search for zero waste shops or refill shops in your area, they may have recycling for a variety of hard-to-recycle items as well. Some schools collect pens and markers for recycling as do some libraries. Local stationery and office supply stores may be other places to try. As far as I am aware, the large chains like Staples and OfficeMax don't offer pen recycling. (Staples has pen recycling in Canada but not in the U.S.)
Buy your own pen recycling box.
Unfortunately, at this time, the BIC Terracycle Brigade program is full. That means that you can't get one of the free boxes right now. You can sign up and be added to a waiting list but there is no telling how long you might have to wait.
If you are really motivated and you work at a place that either goes through a lot of pens or feel like the foot traffic generated by people bringing pens and markers in for recycling could benefit your business, you could invest in one of Terracycle's Zero Waste Boxes for Pens, Pencils and Markers. For small quantities, they also offer a Zero Waste Pouch. If you want to be able to recycle your pens along with other office waste, you can combine it all in the Office Supplies Zero Waste Box. These options will cost you though. The boxes start at over $100 for even the smallest sizes.
That's pretty much it.
Crayola's Colorcycle marker recycling program is on hold due to Covid. There is also an artist who calls himself the Pen Guy who was taking pens for making artwork, but even he has stopped taking donations. I'm guessing he was overwhelmed by the amounts he received and had to cut it off.
I am always keeping my eyes and ears open looking for new avenues for recycling odd items like pens, and if I hear of any new options, I'll let you know. And if you know of any places for taking or sending old pens and markers in the United States, please let me know!
How to Recycle Pens and Markers News
How to Recycle Pens and Markers Resources