President Biden Announces Actions to Boost U.S. Food Production and Feed the World
Visiting a family farm in Kankakee, Illinois, President Biden outlined the actions his administration is taking to address "Putin's price hikes", lower operational costs for U.S. farmers, and make food more affordable for Americans and the world.
Biden thanked U.S. farmers who, he says, have helped pull Americans through the COVID-19 pandemic and are "the bread basket of democracy" in the Ukraine crisis.
"Right now, America is fighting on two fronts. At home, it's inflation and rising prices. Abroad, it's helping Ukrainians defend their democracy and feeding those who are left hungry around the world because Russian atrocities exist," Biden said.
Putin's war has cut off critical supplies of food, he continued, and has prevented Ukrainian farmers from planting next year's crop.
"Our farmers are helping on two fronts, reducing the price of food at home and expanding production and feeding a world in need," Biden added.
To help U.S. farmers rise to the challenge, the President outlined the actions his administration is taking, comprising:
Doubling funding for domestic fertilizer production so farmers can obtain the inputs they need at prices they can afford to maximize yields.
Improving technical help for precision agriculture and other nutrient management tools. By allowing farmers to target inputs exactly where they're needed, such technology reduces fertilizer usage without reducing yields.
Increasing the number of counties eligible for double cropping insurance for planting a second crop on the same land in the same year, helping augment production without relying on farmers to substitute crops or cultivate new land.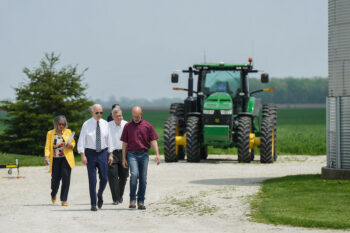 Read The White House fact sheet on the Biden-Harris Administration's new measures:  President Biden Announces New Actions to Address Putin's Price Hike, Make Food More Affordable, and Lower Costs for Farmers  | The White House
Read President Biden's remarks in Kankakee, Illinois: Remarks by President Biden on Supporting Farmers and American Families | The White House
Find out more about the Illinois farmer who hosted President Biden: Jeff O'Connor
President Biden Announces Actions to Boost U.S. Food Production and Feed the World News
President Biden Announces Actions to Boost U.S. Food Production and Feed the World Resources