Six zero-waste Christmas decorations to make at home
As Christmas rolls around and we begin to dig out the box(es) of decorations, you may find yourself longing for a fresh festive look.
Rather than joining the hordes of merry shoppers, why not save yourself some money and adopt a zero-waste Christmas instead. These eco-friendly decorations will not only preserve your pennies but also ensure you do your bit for the planet over the festive period.
Christmas waste facts
Have you ever stopped to wonder just how much is wasted at Christmas? It's no secret that the holiday is an indulgent one, from the extravagant festive dinner to the metres of wrapping paper covering our pressies.
Around 114,000 tonnes of plastic packaging will be sent to landfill this Christmas in the UK, according to Wildlife and Countryside Link. Guilty of using too much wrapping paper for your gifts? You're not alone – a total of 88sq km is used annually across the country.
Despite being a nation of Christmas dinner lovers, we also throw away over four million festive meals each year. According to Zero Waste Week, that's the equivalent of over 263,000 turkeys, 7.5 million mince pies, 740,000 portions of Christmas pudding, and 11.3 million roast potatoes. Food for thought next time you're tucking into your tatties.
How to have an eco-friendly Christmas
Luckily there are tons of ways to ensure your festivities are fairer for the environment.
Consider wrapping your gifts in leftover newspaper, packaging, or even scraps of pretty fabric. Remember to source your real Christmas tree from a trusted local vendor – cheap artificial trees are often manufactured overseas and have a big carbon footprint.
For food, only buy what you really need and will actually eat. If you do have leftovers, don't throw them away. Instead, turn them into tasty, unique dishes that will put that Boxing Day curry to shame.
Eco-friendly Christmas decorations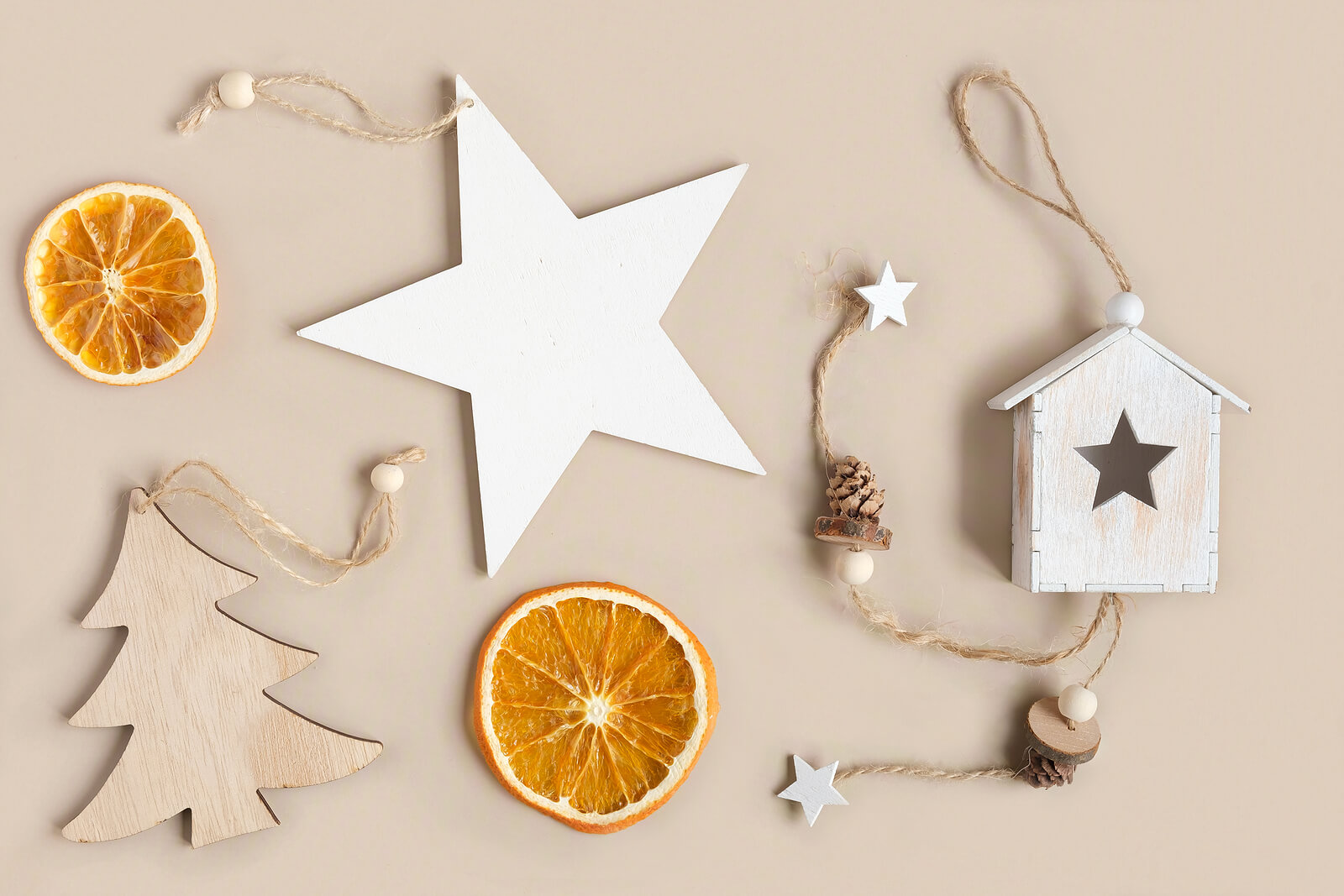 Making the switch to sustainable Christmas decorations is one great place to start in minimising your environmental impact over the holidays.
The possibilities are endless, and here are just some of our festive favourites to get you well on your way to transforming your home.
DIY stars
The simple shape of stars makes them easy to create at home out of everyday materials.
We particularly love these stylish homemade origami stars, which can even be made out of leftover wrapping paper for an even more Christmassy feel. Newspaper also works well if you're opting for a more rustic look, as well as old sheet music for something that looks straight out of a high-end shop.
Have a proper zero waste Christmas and construct your tree topper out of mother nature itself. These twig and string stars are so simple to put together. Use coloured string to match your table décor, or make an extra-large one and place it on top of the Christmas tree.
Sustainable Christmas wreath
Many Christmas wreaths are made out of hard to recycle plastic and, let's face it, just don't look as nice as the original thing. Go back to basics this year and make your own Christmas wreath for use around your home or on your front door.
This stunning homemade Christmas wreath is packed full of classic festive scents, including cinnamon and dried oranges, which decorate the various spruce, evergreen, ivory and other foliage for a beautiful, traditional look.
You'll find wreath rings at most local florists, where you can also pick up some florist wire and twine. The final result will have you the envy of your neighbours, and you'll earn extra kudos when you tell them it's eco-friendly too.
Compostable garlands
Tinsel is so last season. This year, it's all about embracing old-style sustainable Christmas decorations and creating garlands out of food.
Thread some popcorn onto some string and inject a piece (and taste) of America into your home this Christmas. These delicate garlands look great wound around your tree or draped across your mantlepiece. Just resist the urge to eat them straight away.
Those previously mentioned dried oranges also make fantastic eco-friendly Christmas decorations in other ways. This homemade garland uses sliced oranges threaded through thick twine. Again, you can place the decoration wherever you fancy – we particularly like the idea of having it spiral down your staircase.
Second-hand treasures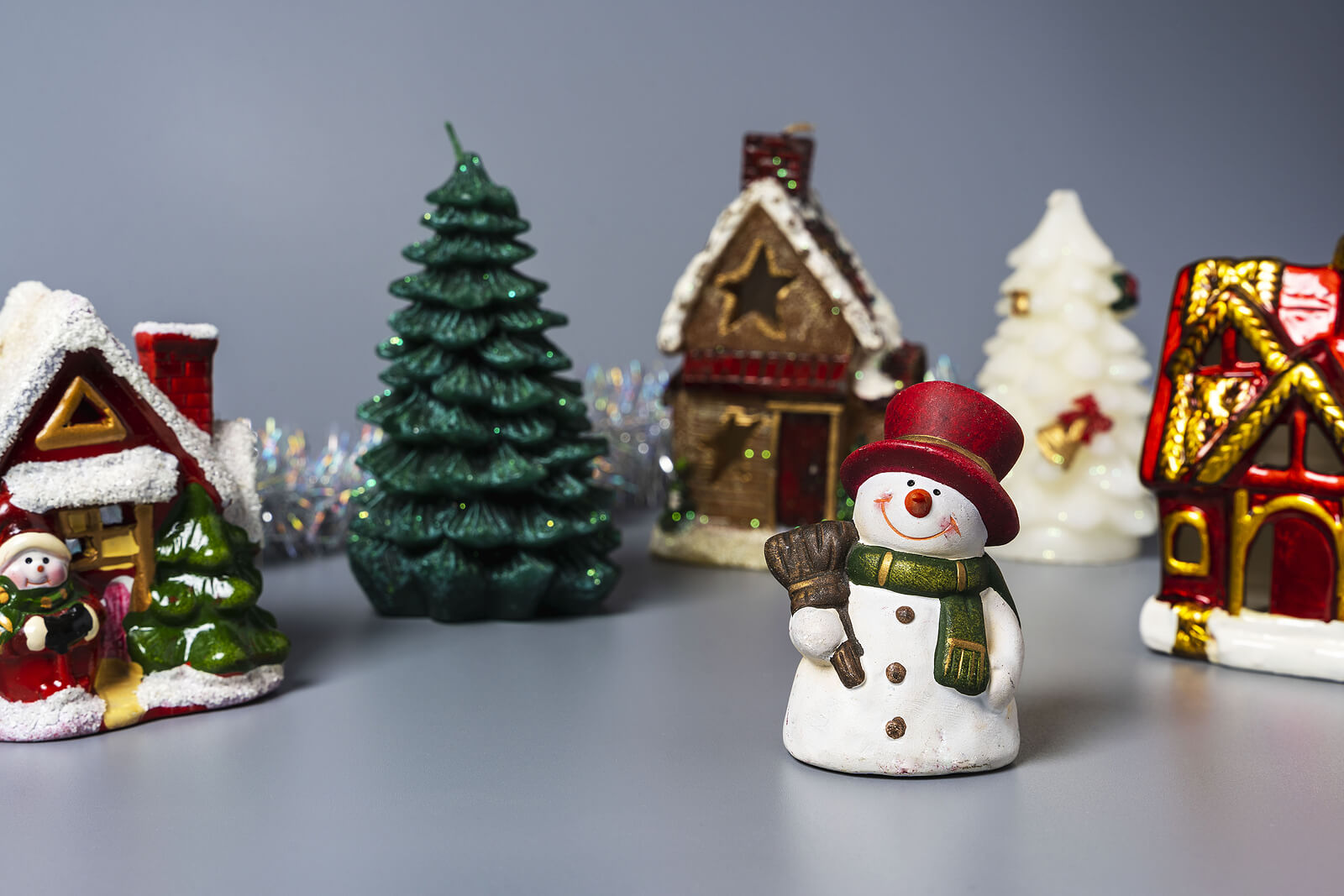 Charity shops are always a treasure trove of Christmas decorations. Scouring their stock over the festive period is a wonderful Christmassy experience in itself, made even better by the fact that you will be rescuing an item from potential landfill.
They are also good starting points for upcycled Christmas tree decorations – choose an item that looks slightly worse for wear and give it a little TLC.
Repurposed tree trimmings
Whether you've got broken parts from your artificial Christmas tree or you've had to trim your real one down to size, save those leftover tree branches – there are loads of uses for them.
Pad out a wreath, decorate the mantlepiece or Christmas dinner table, or even pop them into a vase for simple yet eye-catching festive foliage.
Toilet tube flowers
If you fancy yourself a bit of a crafter, you'll definitely want to try putting together these toilet tube Christmas flowers. Constructed out of (you guessed it) toilet tubes, this pretty and intricate design is actually surprisingly easy to make.
You can keep them plain or paint them to fit with your décor. Jazz up the flowers with some old beads or plastic gems too, before hanging them around your home. A great way to spend a dark wintery evening, made from an everyday item you would usually throw away.
Six zero-waste Christmas decorations to make at home News
Six zero-waste Christmas decorations to make at home Resources