Teijin Energy-Efficient Autonomous Car EV Prototype Developed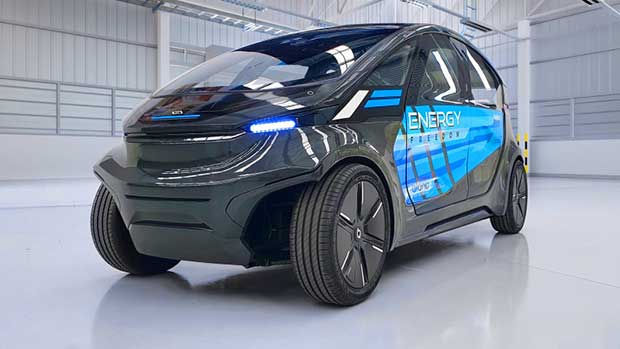 For years, there has been a discussion about how we can utilize autonomous vehicles while maximizing energy efficiency. Well, this is about to be answered with the development coming from Teijin Limited. Working alongside Applied Electric Vehicles, a development of a high-efficiency, low-speed electrical vehicle has come to fruition. This will be used for autonomous driving and mobility, giving people access to zero-emissions mobility equipment that can be useful in numerous places.
These four-seat vehicles will utilize a Well-to-Wheel zero emissions design. This will combine the best technology from Teijin with the strongest, most lightweight of materials. Paired with the processing and moulding technology and allied to Applied EV's own expertise in tech, and we can expect a happy partnership to form. Indeed, the previous work on the Blanc Robot, a well-received mobility vehicle, was seen as an interesting predecessor to what is now being developed.
The vehicle that is being promoted by both will be built on the Blanc Robot platform, benefiting from its zero-emissions approach. However, the combination of Teijin's expertise and knowhow as well as their use of materials helps to create the perfect partnership. Now, using as little energy as possible whilst providing an autonomous vehicle that is safe, secure, and comfortable is very much possible.
This will mean that the vehicle will be able to make journeys whilst using about the same amount of energy as a person. It could even be used for autonomous driving, which could be useful for things like tours, trips, and creating less hectic driving areas.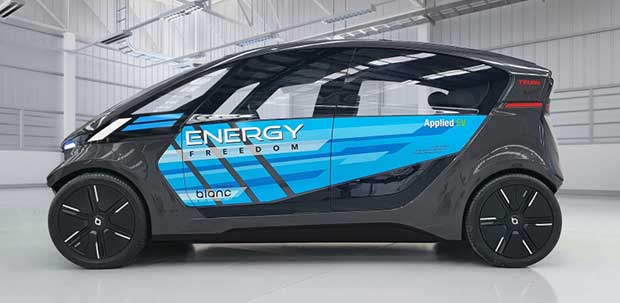 Why does this EV prototype have so much optimism surrounding its design?
The use of a high-end, impact-resistant Panlite polycarbonate resin on the doors and windows helps to create a stylish yet sturdy and well-secured body. On top of that, the use of infrared blocking will help to avoid large temperature build-up from within the vehicle. A curved roof is also designed to come with a power supply module and a solar panel. This should be able to provide the equivalent to a solar panel used at home.
The development for this project first began in 2019, and already we can see a huge payoff from their working together. The creation of what Applied EV CEO Julian Broadbent called "sustainable solutions" in the auto industry can only be a good thing. With a design that allows for the utilisation of solar technology whilst ensuring the vehicle is easy to use, maintain, and ride within, this vehicle helps to solve several questions around how such a device would work.
By removing the need for massive and hugely weighted battery packs, this offers a much-wanted system that is strong, swift, secure, and safe. Add in the intelligent use of materials to maximise longevity and efficiency, too, and it is easy to see why there is such a degree of optimism around this latest development.
Citation
https://www.greencarcongress.com/2021/03/20210330-teijin.html
Teijin Energy-Efficient Autonomous Car EV Prototype Developed News
Teijin Energy-Efficient Autonomous Car EV Prototype Developed Resources